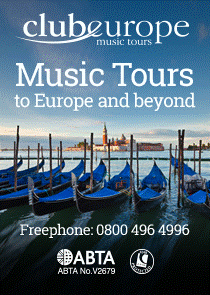 Vacancies
This page has been set up to allow member choirs of the National Association of Choirs to seek the services of others.
Items listed here are placed entirely free of charge and at the discretion of the National Association of Choirs Executive Officers and are for the benefit of member choirs only.
All ads are the sole responsibility of the advertiser and the Officers of the National Association of Choirs accept NO RESPONSIBILITY for the accuracy and content of the advert placed.
Please make contact directly with the specific choir listed in the ad, if your choir wishes to make use of this service please email the Webmaster with your details, remembering to include your choir name, NAC Group and contact information. All items placed are subject to edit.
Further choral vacancies can be found here - ABCD - The Association of British Choral Directors (This is an external site and the NAC accepts no responsibility for adverts placed or the using of this site, please do remember that the ABCD is not affiliated to or a part of the NAC).
Anglia NAC
HUNTINGDON Male Voice Choir
Vacancy for a New Musical Director
Huntingdon Male Voices, the new performing name of Huntingdon Male Voice Choir, is seeking a new Musical Director (MD) to start on 8th September 2022 (or as soon as possible thereafter), to replace our current MD, Peter Davies, who is retiring after nearly 28 years in post.

We are a non-auditioned choir of around 25-30 singers, with aspirations to grow back to our pre-pandemic numbers of 40+. The Choir repertoire includes classical, sacred, established popular music and music from the folk tradition. Since its inception the Choir has maintained a strong emphasis on the enjoyment of singing and in support of organisations raising money for charitable or good causes. There is a wish to re-invigorate these themes and present the Choir as an exciting and worthwhile group to be a member of for men of all ages. We are therefore wishing to engage an MD who is excited by this challenge.


The Choir rehearses on a Thursday evening between 19:30 hrs and 21:30 hrs, with a breaks over the summer from July to September and over the Christmas and Easter periods. We would normally perform in concert monthly, usually on a Saturday evening. A prospective candidate should also be prepared on occasion to undertake out-of-area tours with the Choir.

The full Job Description may be found on our website at http://hmvc.org.uk/newmd, or from the Chairman (Mike Musselwhite) at secretary.hmvc@gmail.com
Midlands North NAC
SHIFNAL & Dist Male Voice Choir
Vacancy – Musical Director
Shrewbury Male Voice Choir are looking for a Musical Director to gradually take over from our present MD who wishes to gradually step down (and join the choir to sing). We rehearse at The Unison Club (formally Nalgo Club) behind Shire Hall in Shrewsbury.
We are a choir that raises money for charities and always have a fun time so we are looking for an MD who can continue to encourage the choir and have fun with us, as well as broaden our repertoire and help bring in new members.
We sing a wide range of music from Welsh pieces, such as Gwahoddiad/Rachie, to pieces such as Sweet Caroline/Bohemian Rhapsody/Is This The Way To Amarillo & much more.
Please contact our Chairman Kevin Sudlow on...
Tel: 07751080425
Email: Kevin.sudlow@talk21.com
Midlands West NAC
VILLAGE VOICES
Vacancy for a Musical Director

Village Voices, based in Warwick, is seeking a new musical director. We are a non-auditioned SATB choir of about 60 members with varying abilities who enjoy a broad repertoire from madrigals to modern numbers and thrive on variety. We rehearse once a week on a Thursday evening, mainly during term time, in a venue with a piano and we have an accomplished pianist. We usually do two main performances a year, one in the summer and another in December, but we also sing at small events and occasionally at weddings.
Village Voices is run by a committee of four elected choir members who support the musical director and oversee the running of the choir.

We are looking for a musical director with enthusiasm who will make our rehearsals fun whilst introducing us to new music and developing our skills. We hope to interview our short-listed candidates in mid-September and they will be given the opportunity to meet the choir and take a rehearsal.
For more information, please look at our website https://villagevoices.co.uk/ or email Claire Darlington at warwick.villagevoices@gmail.com

Closing date: Friday 2nd September. Interviews the evening of Tuesday 13th September (flexible).
warwick.villagevoices@gmail.com
Southern Counties NAC
BASING Singers
Basing Singers needs a new accompanist
Basing Singers needs a new accompanist

Basing Singers is a 4-part SATB amateur adult choir with around 40 singers. We enjoy singing all types of music – classical and pop, sacred and secular, ancient and modern and rehearse from 7.30 pm to 9.30 pm on Wednesday evenings in the Hampshire village of Old Basing, just a couple of miles to the east of Basingstoke.
We generally perform around 3 main concerts each year and are invited to sing at a number of smaller events. Mostly we perform with piano accompaniment but also join with other choirs for larger scale concerts with orchestra. Our concerts raise money for (mainly local) charities.
Our loyal accompanist has been with Basing Singers for thirteen years, but sadly she has now decided the time has come for her to step aside and to hand over to another suitably talented keyboard player. The choir has therefore started the search for her replacement.
You can find out more about Basing Singers on our website, at https://basingsingers.org.uk/.
If you are interested in becoming Basing Singers' new accompanist and would like to know more please email basingsingers@btopenworld.com with details of your experience.
We look forward to hearing from you soon!
Mike Pearce
Basing Singers' Honorary Chairman

Mike Leaming
Basing Singers' Honorary Secretary