NAC Choir MD claims prize in Cornwall - Mon 27 Oct 2014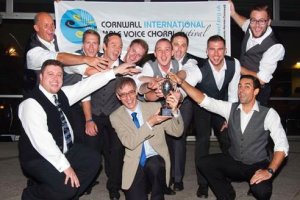 A much-loved poem by Alfred Lord Tennyson provided the inspiration for the winning piece of new music among 40 UK entries for Cornwall's next International Male Voice Choral Festival.
The hotly contested Composers' Competition ended with Ian Assersohn's setting of Tennyson's 'Crossing the Bar' moving an audience at a Truro and Penwith College-sponsored prize evening almost to tears when it was performed for the first time by Alastair Taylor's newly formed "Celtic Male Ensemble".
The Composers' Composition is one of the jewels in the crown of Cornwall's biennial world Choral event which will take place from April 29 to May 4 next year, with more than 60 choirs converging from around the globe for 50 concerts in 40 venues in every corner of the Duchy.
Surrey-based Ian, who studied composition and piano at the Royal College of Music before embarking on a 25 year career as a senior IT director, recently came back to his music – with outstanding results: announcing him as the winner among 40 entries by 31 composers, adjudicator Dr Alan Bullard said he had created "an effective and moving work which represents the best of the Male Voice Choir tradition, with shapely melodic lines, a sense of musical climax, and a traditional but effective harmonic control.
"It will appeal to performers and it sets a well-known text will which will win the audience's hearts."
Ian, the Musical Director of Epsom Male Voice Choir, Leatherhead Choral Society and Concordia Singers, was presented with a silver cup and a cheque for £1000 by joint president of the Cornwall International Male Voice Choral Festival, Michael Galsworthy.
As the evening closed he declared, "Returning to music has been a very positive and successful career move for me. I always love hearing my music performed, especially for the first time, and The Celtic Male Ensemble did a great job."

'Crossing the Bar' will have its world premiere during the 2015 Festival which Director Peter Davies says is already set to be the biggest in the event's 14 year history.
"We have choirs already signed up from South Africa, America and Canada, Spain and Switzerland, Russia and Lithuania, Estonia and Germany – as well as choirs from across the UK and, of course, more than thirty from around Cornwall."
The last Festival in 2013 was a huge cultural success, spread across five sun-filled days with more than three thousands singers of all ages and nationalities performing for more than thirty thousand people in venues across Cornwall, from the Minnack Theatre to St Michael's Mount and from Mevagissy to Bude.
Full details of the 2015 Cornwall International Male Voice Choral Festival can be found on www.cimvcf.org.uk. Concert tickets will be available from the end of November and can be purchased through the Festival website or directly via www.hallforcornwall.org.uk.