Eric Jackson - Tue 30 Sep 2014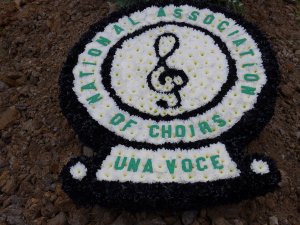 Eric's funeral took place on Thursday 18th September, at Christ Church, Linton. It was well attended by family and friends, and the speakers really brought out the depth of Eric's character - he was such an interesting and well-travelled man, with a deep and abiding love for his family.

The NAC was represented at the funeral by four current Officers (Brenda Wilkinson, Celia Johns, John Croft, and Clive Lawton), one ex-Officer (Eric Cooper, with his wife Sandra), one Vice-President (Bob Barrett, with his son Peter), and many representatives of NAC choirs local and not so local.

Gresley Male Voice Choir sang at the service, to commemorate Eric's long service with the choir - he was still a singing member when he died, and had been with them for over 30 years. They did him proud.

Eric's Interment took place at Gresley Cemetery, and below is a photo of the floral tribute sent by the Officers on behalf of themselves and the member choirs of the NAC.

Rest in peace, Eric, you will be sadly missed.