Bob Swallow - Publications Officer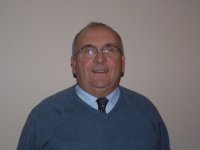 Prepares and Produces each issue of the the NAC Newsletter (News and Views magazine) for publication and arranges distribution to the membership.
PERSONAL BIOGRAPHY.
Bob cannot remember a time when he did not sing; in Church choir, Junior and Secondary school choirs, Hull Youth Choir, College G & S, Orpheus, Humberston Singers and Church choir again. Even when not with an organised choir he sang with guitar in school. The song How Can I Keep From Singing says it really.
He is a Licentiate of Trinity College of Music London as a teacher of speech and drama.
When he retired from primary school teaching in 1999 he took up Creative Writing and has written many short stories, three of which appear in anthologies produced with Hull University. He had a story published in Bon Marché's Magazine, earning the princely sum of £100.
Bob sings first tenor and is Stage Manager for the Orpheus Male Voice Choir with whom he has sung for over twenty years. He also produces posters, programmes and tickets for all of their activities so the opportunity to produce a complete national newsletter was too much to resist.
One of his prized possessions is a season ticket for Hull City.
Bob has three children and three grandchildren.
Other Positions
Lincolnshire NAC Group
Member of The Orpheus Male Voice Choir (Grimsby & Cleethorpes)
Member of the Humberston Singers
Email: publications.officer@nationalassociationofchoirs.org.uk