David Goodwin - Music & Festivals Officer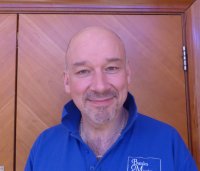 The Music and Festivals Officer provides information on music festivals both in the UK and internationally. He also advises on queries about PRS and copyright.
PERSONAL INFORMATION
David was born in London and after studying at the Compass Arts School spent his formative years living and working in London. He met his future wife Rosemary in 1994 after deciding that he would rather like to meet the owner of the voice he has been ordering music from for the previous year!
He started at Banks Music Publications in 1995 as sheet music buyer, and in the following ten years became an authority on copyright, producing a pamphlet on the subject in 1998.
He then left to follow a chosen career path in the theatre as an actor and singer enjoying ten years as a "jobbing performer" which included three years as dame in the pantomime at The Georgian Theatre Royal in Richmond, Yorkshire.
In 2014 he and Rosemary bought Banks Music Publications from the then owner Margaret Silver, and returned to the fold!
Email: music.officer@nationalassociationofchoirs.org.uk