Celia Johns - Hon. General Secretary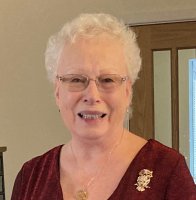 The General Secretary receives all general correspondence to the Association and deals with it on behalf of the Officers, arranges meetings, takes minutes and publishes them, ensures compliance with the Charity Commission in respect of the legalities of being a Registered Charity, and works closely with all other Officers but most particularly the Chairman and Treasurer.
PERSONAL INFORMATION:
Celia retired from paid work at the end of 2008, having spent nearly 30 years as a Civil Servant in HM Revenue & Customs. For the last five years Celia was on secondment with Business in the Community, as Cambridgeshire Area Manager, working with voluntary organisations, charities, and social enterprises, and gaining a tremendous amount of experience of the Third Sector and its problems.
Following retirement Celia became the Chair of Trustees of a small charity in Cambridge, which runs an educational training centre for disabled adults aged between 16 and 25 years.
In Celia's musical life she has been a member of two local choirs for many years. Cantemus, in Spalding (sadly not an NAC choir!) has been in existence for 27 years and she has been a member from the beginning. For the Gildenburgh Choir in Peterborough Celia has been a member for 32 years and is now honoured to be their new Musical Director from September 2012.
Celia has been working with the Anglia NAC Group for about 20 years, and is currently Treasurer and Vice-Chairman of the Group. Celia is also a Committee member of Peterborough Music Making, a group of currently 22 amateur music groups in and around the Peterborough area.
Other interests include bird watching, reading, photography and cooking.
Married with two grown-up children, proud Grandma to five small people.
Email: general.secretary@nationalassociationofchoirs.org.uk