Vice President Peter Marshall - ret. Services Officer & General Secretary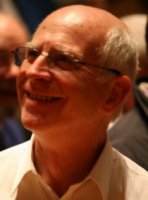 Peter was born in Staffordshire and his association with singing began in the village church choir, which he joined to get friendly with a girl who later became his wife. Not necessarily a good reason to join a choir but a great result! He and Jan moved many times in their married life with periods in London, Essex, Newcastle upon Tyne, Melton Mowbray, Peterborough and now, the Northern Beaches of Sydney, Australia.
After taking early retirement Peter joined the Peterborough Male Voice Choir to return to singing after a long break. He was active in the Choir with spells as Secretary and Chairman. He started his involvement with the NAC in 1998 preparation for the National Conference to be held in Peterborough in 1999. He was also Chairman of what was Group 20 and is now the Anglia Group. This association lasted until moving to Australia in 2006 and he held the position of General Secretary and Services Officer before leaving the UK. He is now the unofficial NAC Antipodean Representative!
Before leaving the UK Peter contacted the Sydney Male Choir and soon after arriving in Australia he and Jan saw and heard the choir perform at their Annual City of Sydney Concert in the wonderful surroundings of the Sydney Town Hall. He was impressed with what he heard and attended the next practice night. That was in June 2006 and Peter is enthusiastic about the choir, of which he is now a Committee Member and is webmaster of the choir's website – www.sydneymalechoir.com.au and publisher of the choir's newsletter. He was instrumental in suggesting that the Sydney Male Choir become an Associate Member of the NAC.
He is a keen photographer, is fascinated by the flora and fauna of his new country, is very interested in computing and is a tutor for seniors wanting to become more proficient with computers.