Vice-President Richard Bradley - ret. Chairman and Services Officer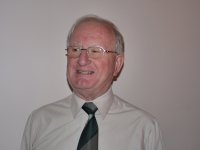 The Services Officer is responsible for the Advice Sheets available to member choirs; their content and their relevance in the light of changing legal requirements.
Negotiates ALL advertising for both the Year Book and News and Views.
Negotiates any advertising literature/information placed by the association.
Liaises with the approved NAC Insurance Provider and also member choirs requiring insurance cover.
PERSONAL BIOGRAPHY.
Richard Bradley had a 37 year career in education starting as a teacher specializing in music and ending as a Headteacher of a school in North Lincolnshire.
His wider involvement in music included being the Chairman of the Grimsby Schools Music Association for many years and also chairing the Lincolnshire branch of the British Federation of Music Festivals.
His early experience in singing was as a chorister at his local parish church and he continues to be involved in church music to this day.
Richard currently conducts the Orpheus Male Voice Choir (Grimsby/Cleethorpes) and the Humberston Singers which is an 80 strong mixed voice choir.
He is currently the Chairman of a company that runs a Concert and Arts Venue with a main auditorium of approximately seven hundred seats as well as other facilities. The venue is run as a Charitable Trust and promotes a large variety of events as well as serving the needs of the local community.
Richard is a past Chairman of the NAC and also a past Chairman of the Lincolnshire NAC Group of the association. He was elected as a Vice President of the NAC at the AGM in April 2012.
Richard's interests outside music are travelling the world when time permits and touring around Europe in his caravan.
Other Positions
Lincolnshire NAC Group
Musical Director of The Orpheus Male Voice Choir (Grimsby & Cleethorpes)
Musical Director of the Humberston Singers