Vice President Ken Hone - ret. NAC former Group Chairman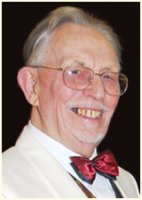 Ken Hone has been involved with music for many years and in the Luton area for more than 50 years.
He was born in Swansea and played his first cornet solo at the age of eight. Ivor Sims, the man who started the Morriston Orpheus Choir, was his music teacher and he sang in the first school choir ever heard on radio at the age of twelve. Following his move to Luton he was Band Master at George Kentís and then Hitchin Town bands before taking over Vauxhall Motorsí Male Voice Choir for 20 successful years. He has also been involved with the Luton Centenary Choir and the Putteridge Singers.
Ken was co-founder of the Luton Male Voice Choir in 1993 and has been presented with the Mayor of Lutonís Award for Service to the Community.
He has been an active member of the National Association of Choirs for many years, having chaired Group 11 - (now called Thames North NAC Group), and was made a Honorary Vice President of the NAC in 2006.